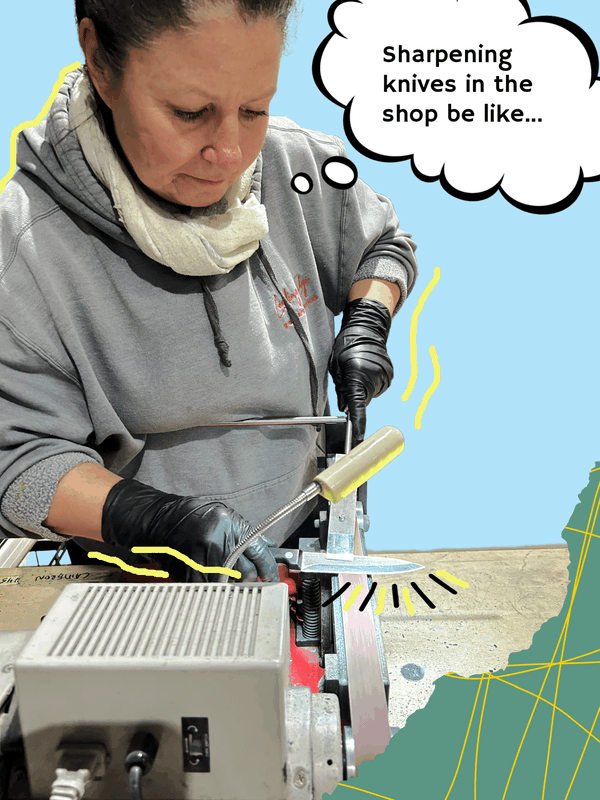 From pet groomers and hair stylists to butchers – maintaining your tools is essential for the quality of your work.
Grooming scissors, shears, knives and industrial tools all need blade sharpening. It's the best way to keep your equipment in top condition after all. 
But to get the most out of a regular blade sharpening, you must find a team of tool sharpening experts to provide you with a sharpening service you can rely on. 
You want a team that will ensure your blades are sharpened properly so you can make fast and efficient cuts. Saving you valuable time and ensuring your work is always top standard.
That's where we come in.
Leading Edge is a team of talented tool sharpeners with years of experience around bladed tools. We know the best ways to sharpen a tool and always make our service as convenient as possible for our clients.
Learn why Leading Edge should be your go-to tool sharpener in Alberta and why you should get an expert to sharpen your tools.
Why do you need to sharpen your tools?
Caring for your blades regularly and ensuring they're always in top condition will save you time and money in the long run.
Why?
Because having sharp tools means you don't have to work as hard to cut through hair or fur (or meat!). Plus, you'll have a cleaner, faster and more efficient cut that your clients will appreciate.
When your tools are sharpened regularly, you also won't have to worry about replacing them any time soon, meaning you can save money on unnecessary replacements.
Plus, having your tools sharpened over replacing them is GREAT for the environment. Think about it – you're not wasting good equipment by throwing it away. Instead, you're getting them sharpened and improved by a specialist. 
Tool sharpening is definitely the way to go. Plus, when a professional sharpens your blades, you'll feel confident they'll be repaired to the highest possible standard.
The team at Leading Edge is here to help you with all your tool-sharpening needs. Here are four reasons why our talented sharpening experts are the right choice and why you should trust us with your tools.
We have the experience you're looking for 
Experience is necessary when it comes to blade sharpening, and we have over 25 years of experience.
We've been knee-deep in the industry for over two decades, grooming furry friends and hearing from people all over Alberta about their tool-sharpening needs.
Because of our years of experience in dog grooming, we understand the importance and necessity of a sharp, efficient blade. No fur is getting cut with a dull blade!
We sharpen all kinds of tools. Our professionally certified blade sharpening services are perfectly designed to satisfy the needs of groomers, hair stylists, and industry-specialized bladed tools. 
Sherry, our owner, is also a graduate of the American Sharpening Institute of Minnesota, which gave her the hands-on training that is clearly evident in her fantastic work sharpening our clients' blades.
When we get our hands on your tools, you can rest assured that they'll come back to you as sharp as ever to give you the cut you're looking for in your work.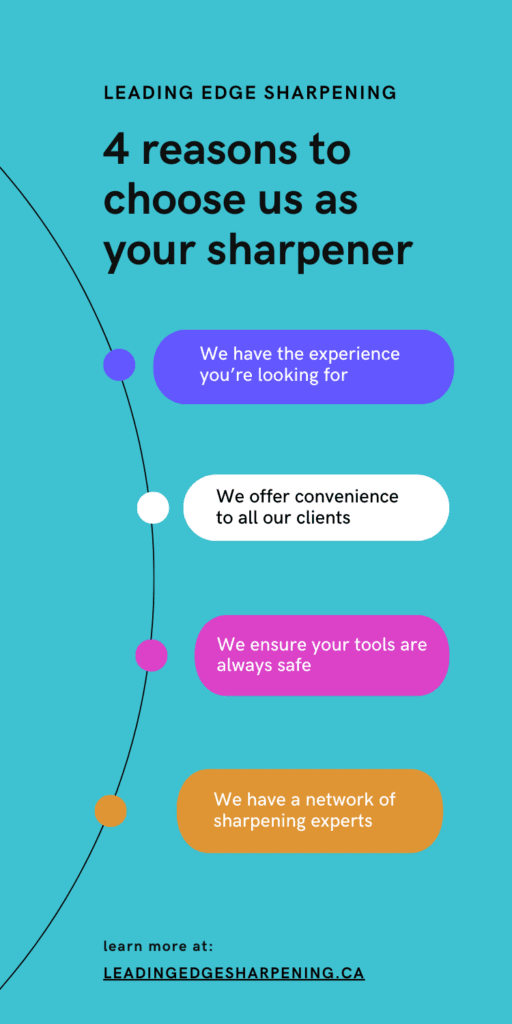 We offer convenience to all our clients
As a groomer or hair stylist, we know you're always up to your eyes in work – or hair or fur! Because of this, Leading Edge offers blade sharpening services designed to be convenient for all our clients. 
With us, you can easily schedule drop off of your tools to ensure your blades are always sharpened by our certified sharpening professionals when they need to be.
Schedule your sharpening appointments ahead of time and simply ship your order to us. We'll have it back to you as soon as possible so you always have a fresh set of sharp blades to work with. 
All orders, when received, are completed with minimal turnaround time and will be shipped back to you as sharp as ever.
We also offer a dropbox services for those that can't make it during business hours or out to our shop. This is another way to make things even more convenient for our clients in Edmonton and the surrounding areas. 
With our dropbox service, you only have to bring your order to our shop at 24 Echo Avenue, Sturgeon County and deposit it in the after-hours box – it's really that easy!
Then we'll get to sharpening and let you know when they're ready to be collected.
We also have three other dropbox locations:
Copper Hollow,15918-121A Avenue, Edmonton, Alberta
Trident Wholesale Pet Supplies, 10481 – 169 Street, Edmonton, Alberta
Morinville Agriblend Bag n Blok, 8702B -98 Street, Morinville, Alberta

We ensure your tools are always safe
Your tools are always in safe hands when they're with our team. Not only do we treat your blades as if they were our own, but we also ensure they're returned to you in pristine condition. 
When we ship your tools, we will always ship them with courier or expedited service via CanadaPost to ensure their safety on their way back to you!
"All my tools are always taken care of with high respect and care. The prices are fair, and shipping is fast, easy and efficient. I would highly recommend Leading Edge Sharpening to anyone in need of a sharpening service."
Top tip: Make sure you have at least two sets of blades for your business so when we're sharpening one, you won't have to worry about being unable to work! 
We have a network of sharpening experts
Learning is constant in this industry – there are always new ways to ensure tools are sharpened to perfection.
This is why we always engage with the industry online to learn from other sharpeners all over the world. They give us a wealth of information about new products, equipment and techniques.
We also always try to attend sharpening seminars when possible to connect and network with brilliant minds in the tool sharpening industry.
We always jump at the opportunity to view and try new equipment on the market too. This is because we strive to give our clients the best possible results for their tools, long term.
Get your tools sharpened by the experts today
We hope this blog has helped you see why you should get your tools sharpened by the expert team at Leading Edge.
Our professional and reliable tool sharpening service is designed to keep your tools razor-sharp and ensure you always give your clients the best service possible.
Want to book in your tools for a sharpening?