UPDATED: JULY 6TH 2022
Welcome to the blog! In this first post I am hoping that the information here will be useful to you in your pet grooming business or if you groom your pet at home.
In order to get this party started, (because hasn't every day of 2020 been a party?) I thought I'd start with a situation that came into my shop the other day.
A blaster (or pet dryer) came in for maintenance and repair and I was immediately relieved that it came in when it did. It could have been a disaster.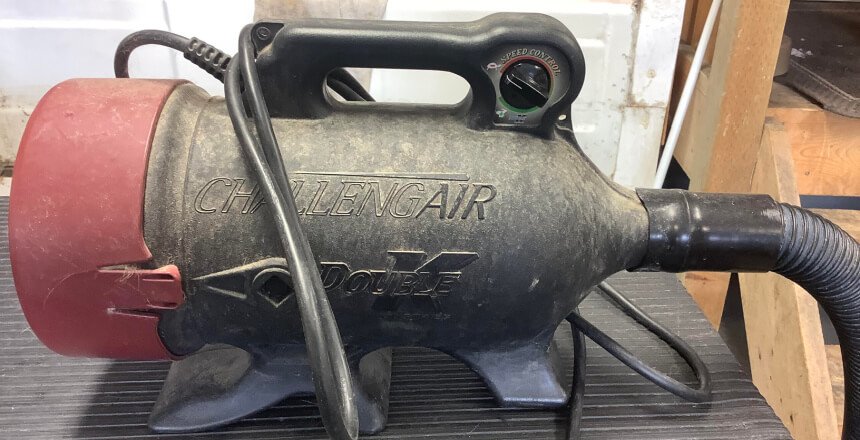 With all that's going on in the world in 2020 with Covid-19 and lockdowns, and people madly stocking up toilet paper and flour 🙂 I couldn't help but think that a fire started by a blaster would be an awful situation to deal with on top of all that's going on.
What follows is a detailed explanation of what we do during a pet dryer service appointment.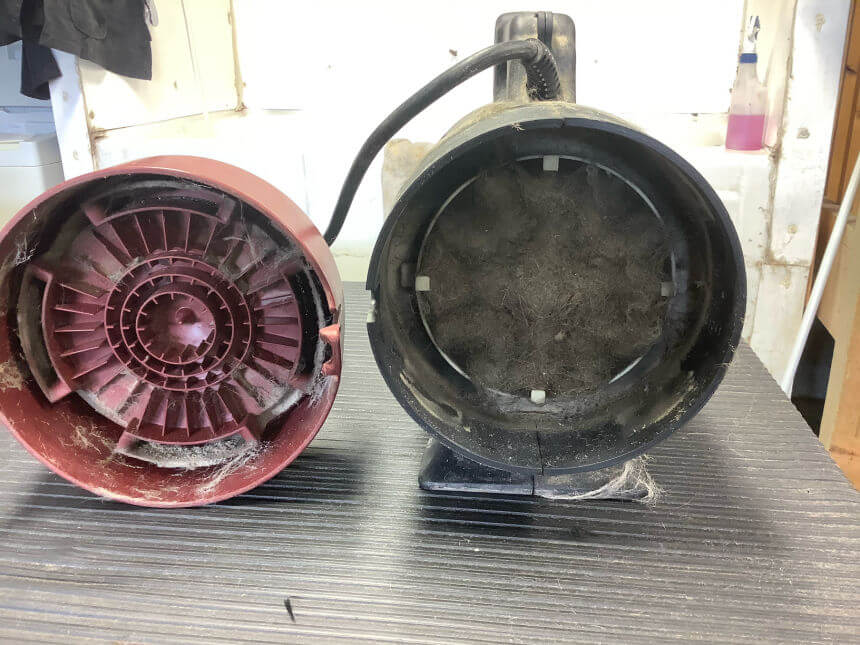 Pet Dryer Repair & Maintenance
You can extend the life of your pet dryer with regular maintenance to minimize downtime and ensure your equipment is running at optimal efficiency.
The blaster pictured above hasn't been serviced in a couple of years and was in desperate need of attention. Thankfully it was brought in to shop for cleaning and general maintenance before it went to blaster heaven or worse.
As you can see there is an excess amount of hair in the rear exterior filter. Buildup of hair on these foam filters reduces air flow and will greatly reduce the efficiency of how the blaster performs. Excessive buildup of hair and dander can be a fire hazard as there is a spark that's produced from the brushes that run along the Armature. A short circuit is also possible if the wiring harness is covered in hair or dander.
When the motor has to work harder air flow will be compromised, reducing the life of the motor. Blasters like this or a new ChallengAIR can cost about $400 to replace!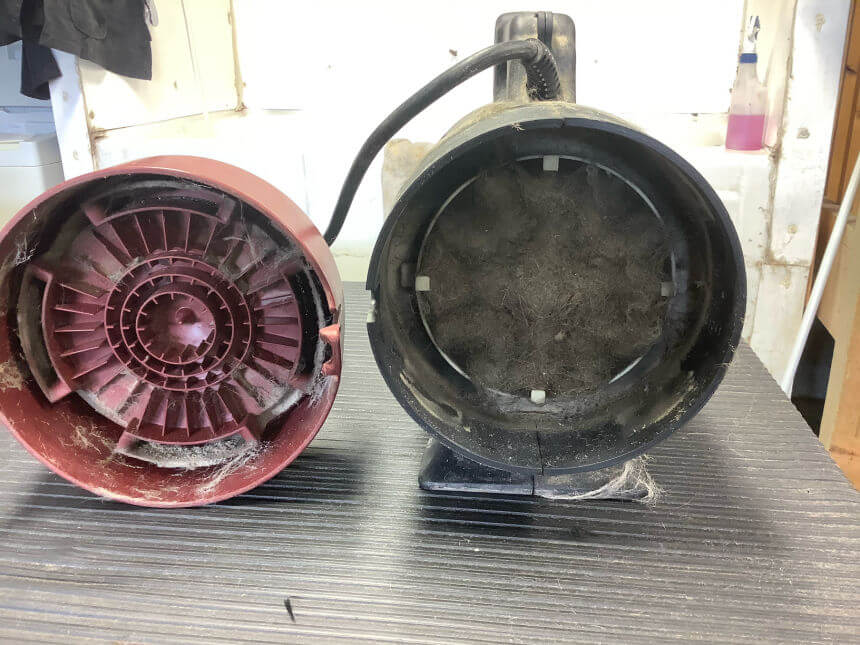 Pictured above is the same blaster with the end cap removed and the interior filter can be seen. As you can see there is an excessive amount of hair as well animal dander buildup. This interior filter also needs to be cleaned regularly to promote good air flow so the motor doesn't have to work harder.
Once the pet dander and hair is removed we thoroughly scrub and clean the equipment to remove pet odours and bacteria.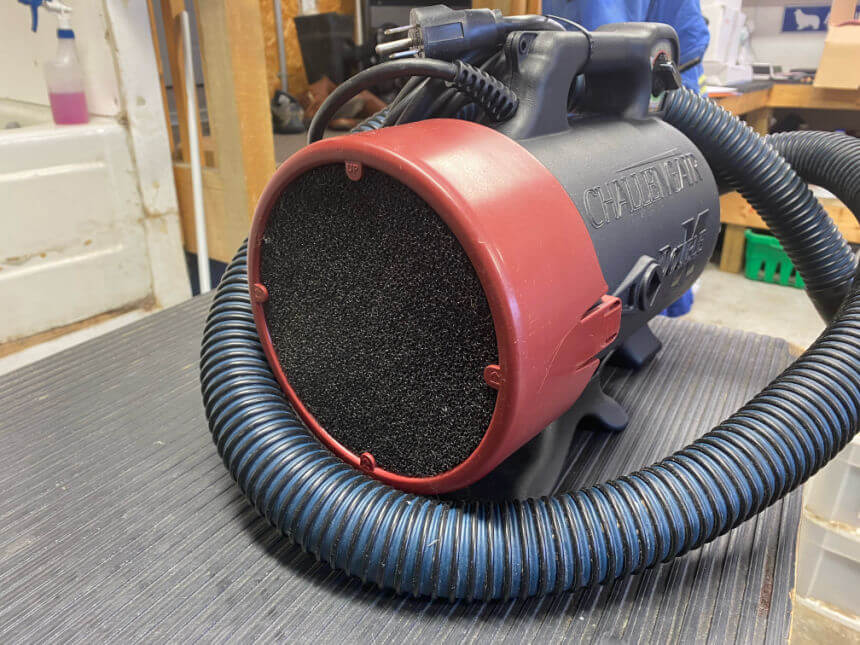 Pictured above is the blaster all cleaned and inspected. The end cap is free of any debris and it's ready for use in your grooming salon for the next six months or so.
A pet dryer is one of the most important purchases you will make for your grooming business and regular maintenance is critical to reduce wear and tear and prolong the life of your equipment.
Caring For Your Pet Dryer
When it comes to repairing pet dryers, you could do it yourself, however a professional cleaning is the best way to ensure it is done properly. We use professional tools and cleaning products to service all your equipment. Whether you have a blower dryer, stand dryer, cage dryer or a blaster like this one you can trust us. Leading Edge Sharpening Services has repaired hundreds of dryers over the years so we've seen it all.
How much does it cost?
A general inspection and cleaning is generally $60 plus GST (1 hr labor).
For busy grooming salons we recommend blasters are serviced twice a year. We have a ton of experience repairing and maintaining pet dryers and have seen it all.
Get Your Pet Dryer Serviced Today
We are not currently servicing pet dryers due to supply chain issues.
Feel free to contact us to arrange the service of your pet grooming blasters and pet dryers, scissors and clippers too! Stay tuned to the blog for the next post about what we do to keep your grooming scissors sharp and well maintained.
Are you curious about what we do to sharpen and maintain grooming scissors? You can find out more about the services we offer to groomers here.
Give us a call if you need assistance or servicing of your dog grooming scissors, tools and equipment.