Being a dog groomer really does sound like a dream job. I mean, what's not to love about getting to work with dogs all day? While most dog groomers will agree that working with man's best friend on a daily basis is indeed a great career choice, a dog groomer's job isn't all nose boops and belly rubs (though naturally, those are perks of the job!).
Many dog groomers get as far as finishing their training, setting up a grooming salon, and then realizing that dog grooming isn't for them. But why?! What could possibly turn someone off one of the best jobs in the world?
Even with its perks, dog grooming isn't always an easy business to be in. That's why I've compiled a list of things I wish I'd known before becoming a dog groomer, so you'll know what to be aware of!
Grooming equipment can be expensive
Like every new business, getting set up can be an expensive process. Especially when it comes to dog grooming equipment, cutting corners (excuse the pun!) at the beginning can lead to further expense later on. It can even lead to a loss of clients if your equipment isn't professional. For a dog grooming business, investing in high-quality equipment from the start is always the best way to go.
As well as a grooming table, bathing station, and all the products needed to make your furry customers look and smell their best, careful consideration should always be given to the scissors, shears and clippers you use. The biggest issue with not investing in these grooming tools is that you'll need to replace them in no time.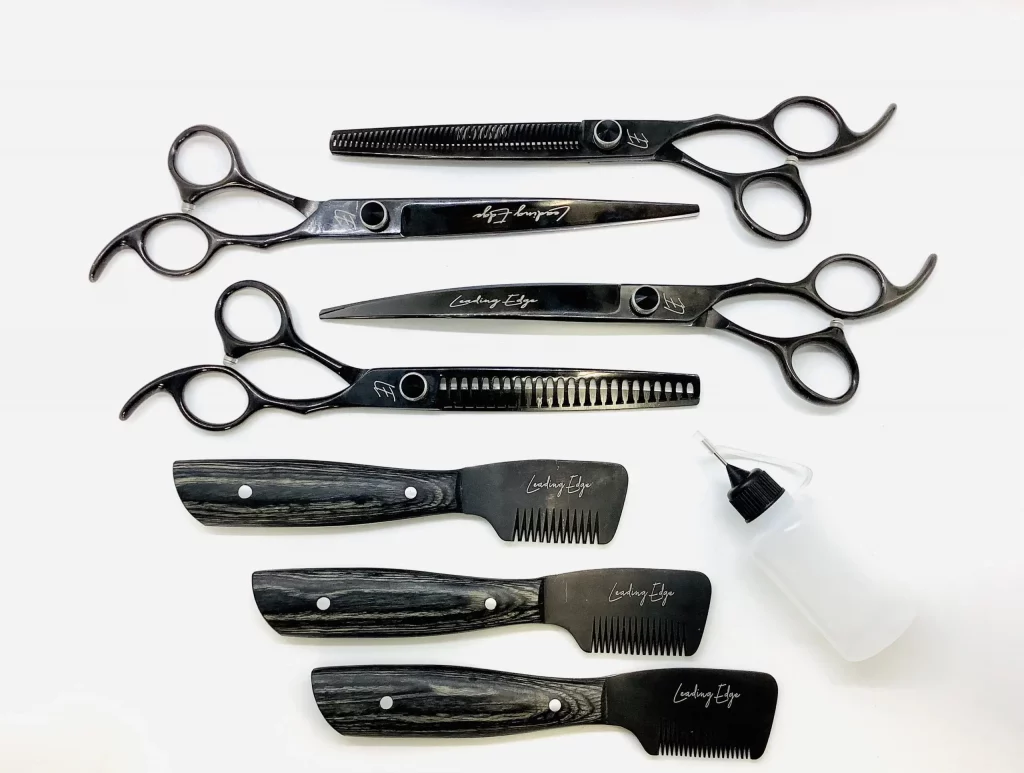 Many dog groomers who buy high quality tools in the first place use them for the duration of their career. This is because good tools can be sharpened and serviced for several years. With a standard good quality starter grooming kit, groomers will be able to better achieve the various styles for different breeds.
Of course, you can always buy dog grooming equipment from Amazon or even Walmart — but be prepared for it to only last a very short period of time. In my experience, the best dog grooming tools are the ones you're most familiar with, so get to grips with your equipment and properly maintain it. Equipment you know and trust will always be best for developing your skills.
Tip: If you're wondering what type of equipment you need to get started, you can find a pretty comprehensive list here.
Taking care of your dog grooming equipment takes organization
Taking good care of your equipment takes more time than you'd think. However, it's always worth it if you want to extend the life of your tools and avoid rust and bacteria build-up. The best way to care for your tools is to just be organized. Once you get into the habit of taking care of your tools, it becomes second nature after every appointment!
Once you've sanitized your scissors, shears, combs, or blade attachments, allow them to dry before storing them away. I recommend patting down your equipment with a towel after sanitizing and leaving everything to air dry further before packing it away. The only thing worse than blunt tools is rusty or unhygienic tools. A great product for sanitizing your grooming equipment is the Virucidal Antibacterial H42. Virucidal Anti-Bacterial H-42 Clean Clippers® is water free, and will not rust expensive clipper blades, or other cutting tools and helps to prolong the life of your hair cutting tools.
Note: Materials such as stainless steel often have built-in corrosion resistance. However, they will still rust if not cared for properly. Many scissors and shears will claim to be "fully rust resistant," but it's still good practice to care for your tools correctly!
Get to know the different breeds
Even though every dog will have their own set of traits that you'll get to know over time, you can still study their general characteristics. Learning about dogs means learning how to manage them better.
For example, terrier breeds can be strong-willed and independent. This is why learning about the characteristics of different breeds is an essential part to help "winning them over" from your very first meeting. Knowledge about a dog breed and different grooming styles will also help you anticipate how long a grooming appointment will take. Some dogs naturally require more time to settle, so factor this in.

Considering a dog's temperament is just as important as considering how their coat grows. And remember, a calm groomer usually makes for a more relaxed dog!
Dog grooming is a social job — so communicate effectively!
If you choose to be a dog groomer because you prefer dogs to people, join the club! Unfortunately, the dog you're grooming won't be the one responsible for booking the appointments and paying you (although how great would that be?!).
Dog groomers often don't realize how much of their day is spent on the phone or computer. From booking appointments and answering emails, when there's not a scissors in your hand — there'll usually be a pen!
Don't forget face-to-face interactions with customers too! Dog owners can be very protective of their pooches, so the best way to handle customer interactions is through effective communication. When a dog arrives, explain to the owner how you would usually groom that breed but also ensure to ask the owner what exactly they are looking for in their pets salon visit. What an owner has in their mind of what they want and what the groomer has in their mind can be two totally different styles. Remember…communicate effectively. Also be sure to include any information about extras such as nail clipping/dremeling and gland expression.
Considerate owners will usually take their dog for a walk right before their appointment (we love considerate owners!). If they don't though, it doesn't need to be a problem. There are other ways to relax a dog during a grooming session.
If the dog needs to be muzzled, this should also be discussed with the owner first. You don't want to undo any ongoing training around anxiety or aggression that the owners are working on!
Tip: If the owner has any particular requests, use your training and professional expertise to determine whether or not you're comfortable changing up your usual grooming style to cater to their request. The only thing worse than an unhappy dog is an unhappy customer with a haircut that isn't what they were looking for. We understand that sometimes customers have visions of their beloved pet looking like the show dogs we see in the ring, but sometimes this is not an option depending on the condition of the animal's coat. Again communication is essential to ensure everyone is on the same page.
Find someone you trust to service your equipment on a regular basis
As I've mentioned, quality dog grooming equipment can be expensive, but investing in quality tools from the start is the most cost-effective way to manage your equipment long term. Good quality tools can last a dog groomer years if they're properly maintained and serviced regularly, so finding a sharpening service provider you trust is a great asset for your business.
When looking for a sharpener, always ask what their turnaround time is for getting orders done. It's understandable that minimal downtime is desired when having your tools serviced but it's also imperative to understand that the last thing you want is your sharpener to be rushing to get your order done. It's always a better choice to have "quality over quantity". Some sharpening services even offer dropbox or mail-in options for your tools, so you don't have to visit their premises to maintain your equipment!
Remember: You should always remove hair from your tools between appointments and sanitize as you go. Similar to a hairdresser or barber, your furry clients deserve only the cleanest tools to be used on their hair to avoid transferring bacteria or residue. Virucidal Antibacterial H42 is an amazing product that not only sanitizes but lubricates your tools. Click here for Virucidal Antibacterial H42 products we carry.
Always have backup grooming equipment
It might sound obvious that you'll need backup equipment as a dog groomer, but you'd be surprised by how many dog groomers have to cancel appointments because their tools have let them down. It is imperative to have backup equipment such as clippers, dryers, and scissors, to get you through any necessary appointments while your other tools/equipment is being serviced.
Having backup equipment also means there won't be any issues when you need to have your tools serviced or repaired. While it's perfectly okay to have your 'favourite tools or brand of tools (I know I have my favourites), doubling up on everything you need provides more freedom to work when your most trusted tools aren't on hand.
Pre-book your client's next appointment whenever possible
Many dog breeds will require regular grooming appointments to avoid matting or overheating, so having regular customers is quite common in the dog grooming profession. The general consensus is that if your dog likes going to a particular dog groomer, it's good to stick to that groomer whenever possible. Dogs are creatures of habit, and once they get used to a few appointments with one groomer, any stress or anxiety they used to feel will melt away once they're familiar with the process. Consistent and regular appointments will also create an important bond between your pet and your groomer which is also very important.
Because some dog owners are more likely to care about their dog's appearance than their own, dog grooming appointments can book up fast. Booking dogs in for appointments in advance will help the owner keep track of appointments and avoid them getting caught when their dog is in desperate need of a haircut. Whenever an owner comes to collect their dog, immediately offer to pencil them in for their next appointment — recurring business is the best kind of business!
Tip: Some dog groomers provide an appointment card for sticking to the fridge, while others offer to send out reminder emails or text messages. Whatever your process, encourage repeat business whenever possible. Not only is it good for creating regular income, the dogs who become regulars also benefit!
About me and Leading Edge Sharpening Services:
As a salon owner and dog groomer, it became clear that maintaining dog grooming equipment was one of the best ways to keep my business going and my clients happy. We sharpen all kinds of knives and tools, but dog grooming equipment is how we started and is our specialty!
As well as servicing the whole of Canada with a mail-in service, we also offer four different dropbox locations where you can securely drop off your dog grooming equipment and have us return it to you in much better condition!
We're also proud to sell our own line of scissors and are approved distributors of Kenchii, ShowGear, Anvil, Wolff and Arnaff. We are a certified sharpener for Chris Christensen.
Solutions for dog groomers, by a dog groomer!
Shop here.