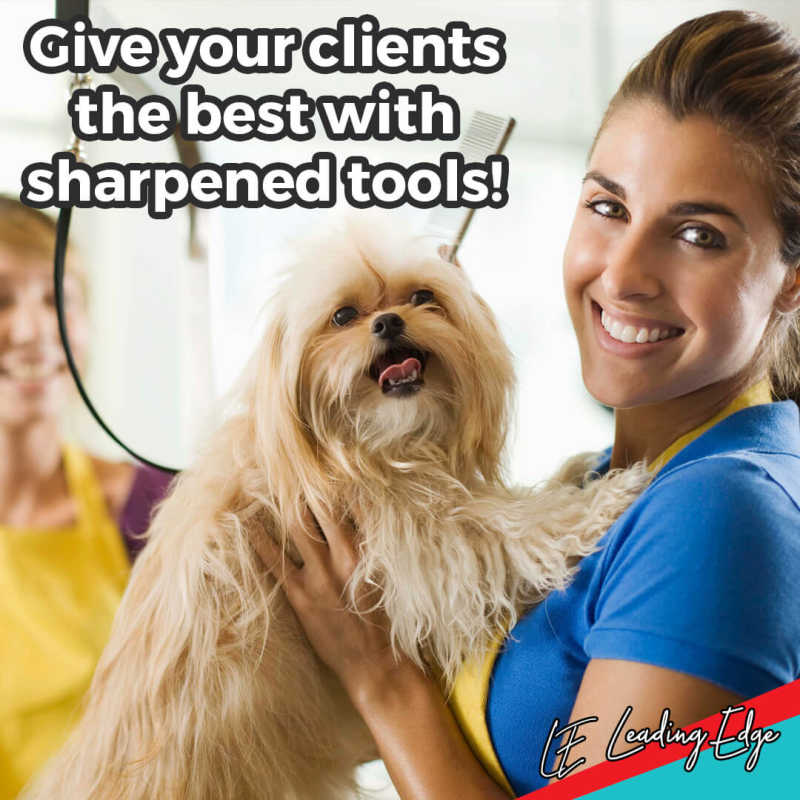 Having sharp and well-maintained tools is important for professionals in various fields. Whether you're a chef, dog groomer, or hairdresser, the quality of your tools can greatly impact your work.
That's why building a strong relationship with your tool sharpener is a real game-changer.
In this blog, we'll explore why having a solid connection with your tool sharpener matters. We'll discuss the benefits of regular tool maintenance, the expertise of a professional sharpener, and how a trusted relationship can boost your productivity and satisfaction in your craft.
Don't settle for dull blades and mediocre results. Join us on this exciting journey and unlock the power of a thriving partnership with your tool sharpener. 
Top 8 reasons you need a good relationship with your tool sharpener
Consistent quality
Having a good relationship with a reliable and skilled tool sharpener is like having a secret weapon that guarantees consistently excellent results.
When you sharpen your tools with a professional you trust, you can say goodbye to the challenges of achieving clean cuts, smooth finishes, and intricate details in your work.
Sharp tools are the key to achieving flawless results, eliminating the pain of trying to work with dull blades. Plus, sharp tools make your work easier and more enjoyable, allowing you to focus on your craft rather than struggling with ineffective equipment.
Improved communication
A good relationship with your tool sharpener isn't just about sharp blades; it's about open communication and understanding.
When you have a solid relationship with your sharpener, they'll take the time to listen to your specific needs and preferences. This means you can enjoy quality sharpening services tailored just for you.
This level of customization ensures your tools align perfectly with your unique craftsmanship style, enabling you to consistently produce work of the highest quality.
Timely service
A good tool sharpener understands the crucial role of sharp tools in your work. They grasp your dependency on these tools and their direct impact on productivity.
When you have a strong relationship with your sharpener, they go above and beyond to ensure you receive fast service, prioritizing your sharpening requests.
You can rely on them to consistently keep your tools sharp and ready whenever you need them!
Trust and reliability
Trust is the bedrock of any successful partnership, and the relationship with your tool sharpener is no exception. When you trust your sharpener, you feel immense relief and confidence, knowing they will take excellent care of your tools.
Additionally, when your sharpener becomes familiar with the tools you regularly have serviced, they can offer personalized tool sharpening services. This further solidifies the trust, reliability, and exceptional care they provide for your tools.
Fair pricing
Bid farewell to the worry of unexpected costs or surprising bills. Fair pricing becomes the norm when you have a strong relationship with your sharpener. They understand that transparency and honesty are crucial to you and won't try to overcharge you.
You can rest easy, knowing they will be upfront and transparent about their prices, helping you budget effectively and avoiding unpleasant surprises.
Increased efficiency
When your sharpener understands your unique needs and preferences, they can consistently provide sharpened tools tailored to your requirements.
This means no more wasting time on tedious adjustments or corrections. Instead, you can dive into your work, knowing your tools are finely tuned to perfection.
The result? Enhanced efficiency and productivity allow you to complete tasks more quickly and achieve superior results.
Customer satisfaction
Building a strong relationship with your tool sharpener also benefits your customers. Consistently delivering exceptional results becomes your trademark.
Your clients will notice the precision and quality of your work, leading to increased satisfaction and positive feedback.
By investing in a reliable sharpener and maintaining a strong partnership, you enhance the overall experience for your customers.
Long-term results
Building a solid relationship with your tool sharpener holds long-term advantages that help with your business's continuous success and growth.
Clients will appreciate the great service and excellent results you deliver. They'll become loyal customers who continue to seek your services. This sustained demand for your work keeps your business flourishing in the long term.
Building a solid relationship with your tool sharpener can lead to consistent quality, improved communication, timely service, trust, fair pricing, and much more.
With a reliable partner, you can confidently deliver exceptional work, cultivate customer loyalty, and experience long-term business growth.
Discover Leading Edge Sharpening!
At Leading Edge Sharpening, our dedicated professional sharpeners are committed to building solid and long-lasting relationships with each of our valued customers.
We understand your needs are unique, so we take the time to get to know you and provide personalized service.
With extensive expertise in sharpening clipper blades, grooming scissors, knives, and industrial tools, our mail-in service caters to customers throughout Canada. 
Please choose from our four convenient drop box locations to safely leave your items in our care or post your package to us directly.
Rest assured, we'll pick up your tools for sharpening and return them in razor-sharp condition, allowing you to excel at what you do best. We use a few shipping carriers, including Purolator and Canada Post, to return your items and choose based on the best price and fastest option for you.
Contact us today to discover more about our cutting-edge tool sharpening service and experience the Leading Edge difference.
Find out how to improve sustainability in your business and more information on the blog.