Professional blade sharpening services are essential for ensuring the safety of your employees and creating an efficient workplace. Sharp tools reduce the risk of injuries, help you comply with safety regulations, promote employee familiarity, and improve morale.
Investing in professional sharpening services saves costs on buying new equipment and enhances the quality of work. Leading Edge Sharpening offers expert blade sharpening services to minimize accidents and maintain sharp tools.
Whether you're a professional chef, dog groomer, or hairdresser, one thing should always be on your mind – the safety of your hardworking employees.
We all know that accidents can happen, but one key to preventing them is to ensure that the tools you provide your employees are in tip-top condition.
That's where professional blade sharpening services can help!
Professional blade sharpening provides a valuable solution for keeping your grooming tools, hairdressing equipment, serrated knives, or other bladed tools sharp.
In this blog, we'll look at the importance of sharp tools and how professional sharpening services can protect your employees, boost their performance, and improve their overall morale.
Let's explore the four reasons why having sharper tools will create a safer and more efficient workplace for you and your team.
1. Reduces risk of injury 
When we hear the word "sharp," our minds often jump to thoughts of danger. But when working with sharp scissors, knives, or clipper blades, the truth is that sharpness equals safety.
For example, when culinary knives are sharp, they require less force and pressure to cut through food.
This means that employees using sharp knives have better control, reducing the risk of slips and accidental injuries. A dull knife, on the other hand, can easily slip and result in accidents.
This is why it's important to sharpen knives regularly with the help of professional knife sharpening services.
2. Keeps you compliant with safety regulations
Safety compliance is crucial for businesses, especially in industries like food service. A professional knife sharpening service will help you meet safety standards and comply with regulations.
Caring for your knife blades through professional sharpening shows you're dedicated to creating a safe workplace.
Keeping your knives sharp sends a clear message to your employees that their safety matters and that you prioritize their well-being.
3. Greater employee familiarity
Just like everyone else, your employees appreciate familiarity.
They become more comfortable using specific tools when they get used to them. But when those tools become dull, and you have to replace them, your employees may struggle to adapt to the new shapes, sizes, or weights of these replacement tools.
It may not seem like a big deal, but it can seriously disrupt their techniques and lead to costly mistakes or accidents.
By keeping your tools sharp through professional sharpening services, you provide your employees with the consistency they need. You also save yourself the cost of having to buy completely new equipment.
And the small investment you make in sharpening can make a big difference in your employees' confidence and the standard at which they complete their work.
4. Improves employee morale
Sharp tools that do their job well improve employee morale and reduce frustration. When employees have sharp and efficient tools, it makes their work easier and more enjoyable.
Imagine your sous chef slicing effortlessly through ingredients with a sharp knife or your groomer making precise cuts with razor-sharp shears.
Working with cutting-edge tools improves the quality of your employee's work and boosts efficiency and productivity.
Employee morale is also improved when you invest in tool sharpening because your workers don't have to deal with the strain of dissatisfied clients. They can supply services clients are happy with because they have quality equipment at their disposal.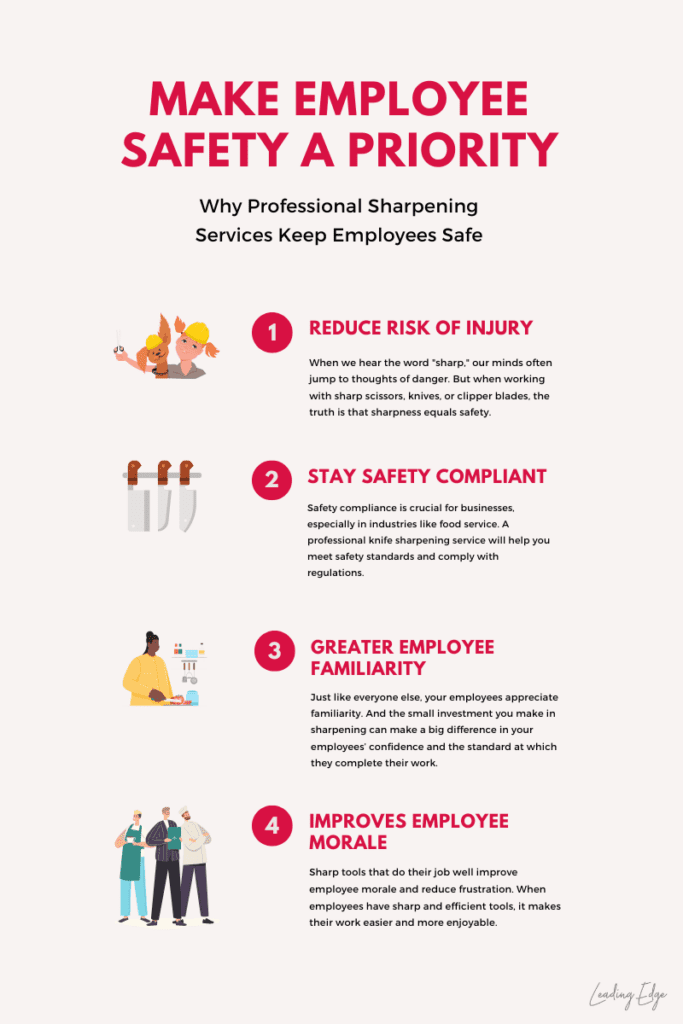 Ensuring your employees have access to sharp tools is essential for creating a safer workplace.
Professional sharpening services play a major role in maintaining the condition of grooming tools, chef knives, and hairdressing equipment.
These services will reduce the risk of injuries, boost employee morale, and help your business adhere to safety guidelines and regulations.
While you may be considering buying your own professional knife sharpener, sharpening stones, or electric sharpener, it's important to remember that achieving professional-level results requires skill and practice.
A high level of proficiency is needed for sharpening effectively and ensuring the safety of your employees.
Get your tools sharpened at Leading Edge Sharpening!
At Leading Edge Sharpening, we're dedicated to protecting the safety of your employees through our professional blade sharpening services.
We ensure that all the knives, clipper blades, and grooming scissors in your establishment have a sharp edge, minimizing the risk of accidents and injuries.
When you choose Leading Edge, you can conveniently use our one of our four drop box locations to safely and securely leave your dull knives and other items for sharpening.
Our expert team will handle the sharpening process, and we'll use our professional sharpening techniques to return your tools in razor-sharp condition.
Contact us today to book your tools in for a sharpening.