Updated: July 6th 2022
Over the years I've had many conversations with groomers and stylists about caring for their tools. There's many products on the market which work well but some are water based. This is a huge problem as water and metal don't always play nicely together.
We get a lot of clipper blades in for sharpening that have evidence of rust and even pitting which is rust actually penetrating the surface of the steel. This can drastically affect the performance of blades during your grooming session.
So how do you ensure your clipper blades are sufficiently cleaned, disinfected & sanitized without compromising the integrity of the blade itself?
Are you looking for a product that will not only clean clipper blades but also keep them from getting damaged? The answer is Virucidal Anti-Bacterial H-42 Clean Clippers®.
Virucidal Anti-Bacterial H-42 Clean Clippers® was developed in 1986 by a family run business in the United Sates and is approved by Health Canada. When used as directed, it is not only safe for your clipper blades and scissors but it also helps to protect against Staphylococcus aureus, Salmonella enteric, Pseudomonas aeruginosa and Human Immunodeficiency Virus (HIV-1).
This is especially important for those groomers who have busy grooming shops that need to use the same clipper blades on multiple dogs. Because it is specially made to prevent the growth and transfer of viruses and bacteria from one cutting to the next, it cleans clipper blades quickly and efficiently, keeping your equipment in optimum working order.
This product will kill just about anything that contaminates your clippers as long as you've pre-cleaned the surfaces/objects that were previously soiled with blood/bodily fluid. It can be used on any type of blade, scissor or metal equipment which is why it is widely used in health care settings and veterinary clinics as well as grooming salons.
So What is a Virucidal?
A virucidal is an agent (physical or chemical) that deactivates or destroys viruses and bacteria. This differs from an antiviral drug which inhibits the development of the virus. Virucidals are capable of neutralizing or destroying viruses and bacteria. This is the main reason why so many veterinarian clinics and grooming salons are switching to this Virucidal Anti-Bacterial H-42 Clean Clippers.
Virucidal Anti-Bacterial H-42 Clean Clippers® is water free, alcohol free and a non-aerosol, containing no harmful vapours. Other water free cleaners may contain alcohol which over time may develop rust on your clipper blades. When using this product to clean & sanitize your clipper blades it will prevent rust from forming on your expensive clipper blades, or other cutting tools.
When used as directed it evaporates any moisture that might be on your blades which helps to prolong the life of your hair cutting tools. In turn will save you a lot of money on replacing rusted, damaged blades/scissors.
How We Clean Clipper Blades in the Shop
Any clipper blades that come into our shop for sharpening are cleaned and sanitized with H-42 Clean Clippers. All blades are disassembled first and then put in the ultrasonic cleaner for at least 5 minutes.
After the cleaned blades are sharpened and sanitized they are reassembled and tested. Once tested any hair residue is cleaned with the H-42 Clipper blade brush. Lastly, all blades are oiled with H-42 clipper oil to lubricate the moving parts and protect blades, then packaged up and sent back to you.
For those clients wanting to use H-42 Clean Clippers for their blades/scissors in between sharpenings we have it available when you pick up your sharpening order. If you prefer, we can send it to in the mail when we return your order. There are several convenient sizes available including spray bottles, jars and the larger more economical sizes.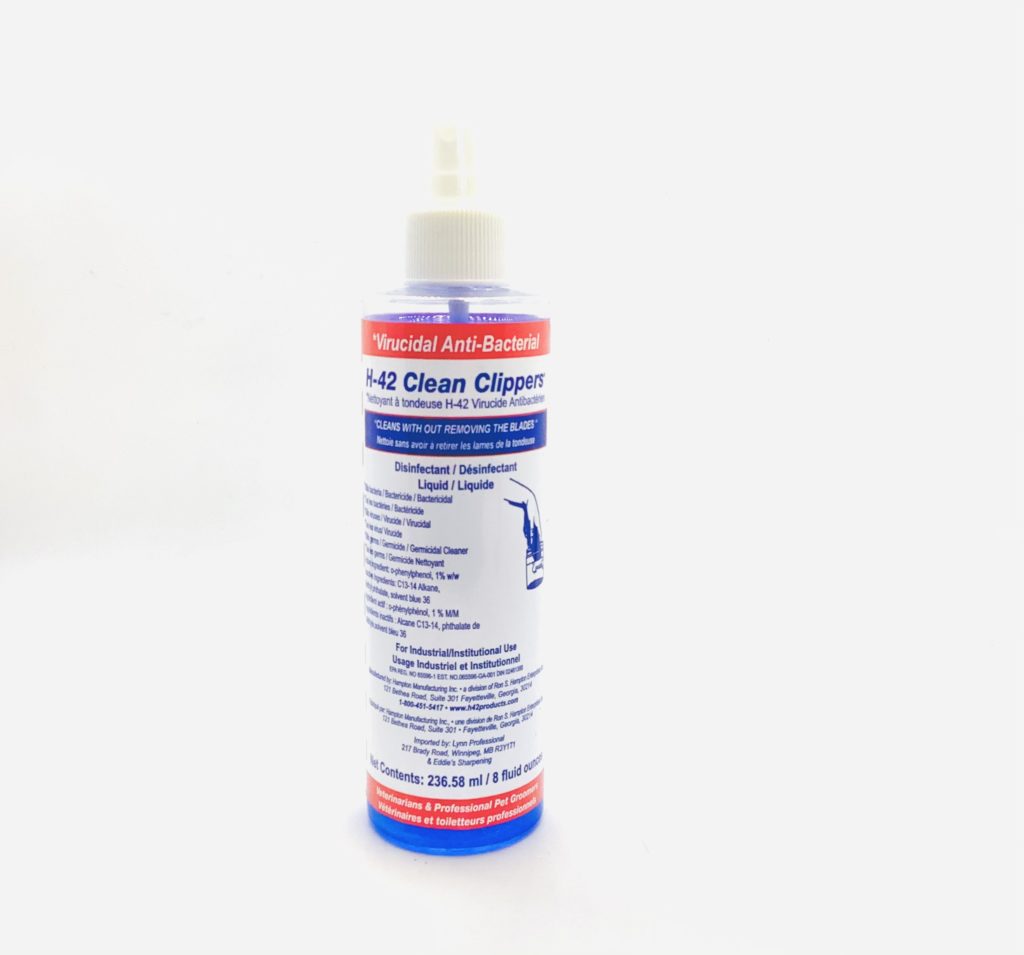 How To Use H-42 Clean Clipper Solution in Your Grooming Salon
When we were running our own grooming salon we preferred the spray bottle format in either the 8oz and 16oz sizes. When you're busy, it's easy to use and convenient to quickly sanitize equipment. Simply spray on the cutting edge of the clipper blade after precleaning and wipe with a clean cloth.
You can also use this product while the clipper is still running, for example, after you've clipped the sanitary area on a dog but need to go back and redo an area. Simply submerge the cutting edge of the blade into the jar to circulate the Virucidal Anti-Bacterial H-42 Clean Clipper solution throughout the cutting edge of the blade to dissolve grease and grime.
After a couple minutes of circulating in the cleaner, turn off the clipper and lay it on a clean surface. Get a clean cloth and wipe excess cleaner off with a clean cloth. Now you're good to go.
Thanks for reading! If you have any questions please send me a message!
Sherry